If you have some un-filled banner inventory, take a look at these programs to help bring in some additional income. Some are pay-per-click, and some pay based on the number of impressions for their banners.
Note: Our experience has been that unless you have an extremely high amount of traffic, the pay-per-click options won't do much for you. Banners, in general, unless highly targeted to your audience, won't result in a high percentage of clicks. So choose with care!!! Remember who your visitors are and what they are likely to click on.
Adsbridge - Track, compare and optimize all your marketing links in one place! All forms of traffic are accepted with no conditions. We offer precise targeting rules (browser type, OS, location, time of day, day of week and more). Automatic optimization is a new exclusive tool designed to simplify the work of affiliates. It provides various algorithms based on the combination of optimal control strategy and probabilistic approach that help monitor all statistics and reduce risks. With AdsBridge, you can use as many custom redirect domains as you need! This way you are in total control of your domain's reputation at all times. Now you can have a back up to switch the domain at any moment when needed. Landing page builder enables you to create your own landers hosted on our servers for web and wap in minutes! You can use the html editor or the visual editor to customize to your needs. Select landers from our library which is regularly updated with the best performers. You can customize landers in seconds by changing the background image, colors and text with just a few clicks. Pay yourself not coders! As a Referral Partner, you'll earn a commission every user who signs up and upgrades based on your recommendation. Each referral can earn you 10% of their monthly fee as long as they stay our client.

&nbsp
Bing Ads France - Vous pouvez profiter d'une opportunité unique de devenir un partenaire de Microsoft, soit l'une des marques les plus reconnues dans le monde. Profitez du programme d'affiliation de Bing Ads et générez un revenu par le biais de votre site Web ou de vos propriétés en ligne. Il vous suffit de vous inscrire au programme et de promouvoir la publicité par liens sponsorisés sur le Bing Network. Vous pouvez bénéficier d'une commission pour chacun des internautes signalés par vos soins qui s'inscriront sur la plateforme publicitaire Bing Ads. Le programme est proposé aux États-Unis, au Canada, au Royaume-Uni, en Allemagne, en France, en Italie, en Espagne, au Mexique, au Brésil, en Inde, en Australie et en Nouvelle-Zélande. La promotion de la publicité par liens sponsorisés sur le Bing Network peut apporter un flux de revenus lucratif aux éditeurs car des millions de sociétés allouent une grande partie de leur budget marketing à l'acquisition de nouveaux clients par le biais de la publicité en ligne. Aidez-les à faire grandir leur entreprise tout en touchant une commission. Rejoignez-nous dès maintenant et bénéficiez d'une rémunération de 15€ par vente !

&nbsp


Deals Nearby You - Deals Nearby You is a geo-targeted local coupon provider that you can access and redeem right from your mobile phone. Receive local deals instantly. No pre-purchasing required. Deals are always with you on your mobile phone. Save your favorite deals for quick look-up. Share deals on Facebook and Twitter. Deals Nearby You is FREE. You always save at least 5% Do you have a website targeting retailers, restaurants, bars ect.? Then join our affiliates program. DealsNearbyYou.com affiliate program is free and enables members to earn revenue by placing a link or links on their web site. Any sales made to advertisers who have clicked on those links will earn the affiliate commission. Our commission rate is currently 30% of the monthly subscription the advertiser pays. When advertisers sign up they get free 30-day trial. Your commission is payed when the advertiser starts to pay subscription. DealsNearbyYou pay monthly by PayPal.

&nbsp


FastLook Online Shopping - FastLook presents the best online shops, stores and web sites for an Australian audience. The web site has been online since 1999 and has a very solid web foot print which offers advertisers and the businesses listed targeted web traffic and a high value backlink opportunity. If you have an Australian web site that you would like to promote in one of the FastLook business categories please see our Listing Page. Earn $0.04 (AU) per referral.

&nbsp


Orangear - Set up your own ad network in no time and get instant access to dozens of profitable offers. You can adjust all of the necessary parameters without development teams and grow fast to become a global business. Accelerate your growth! Orangear provides easy scalability and simple transition from other platforms. Facilitate your workflow, multiply your opportunities and double your income with our comprehensively designed solution. Complement your platform with additional solutions and tailor-made tools designed to expand your opportunities and attract new partners. Provide new services, conquer new markets and defeat your competitors. Earn 10% commission for each referred customer .

&nbsp
PPCmate - was founded in 2014, by 3DMA Ltd. Our mission is to meet your advertising goals, whatever they may be. Is it to build exposure? Generate revenue? Get more users? Talk to us and we'll help you make it happen! We envision a web that serves up informative, entertaining and more importantly highly relevant ads without being obtrusive to the consumer. And we're proud to say that PPCmate takes steps every day to bring us closer to that vision. The affiliates are rewarded by 10% Lifetime Commissions.






&nbsp
RevenueStreet.com - is full-service online marketing and advertising company specializing in Cost-Per-Action (CPA, CPL, CPC) campaigns. We develop and implement Internet marketing campaigns designed to get you the best results for your money. RevenueStreet's experience comes from working with some of the largest and most successful companies on the web. Our superior customer service levels have set the benchmark for affiliate marketing. Our goal is to set ourselves apart from industry standards. We are extremely confident we will earn your business, loyalty, and trust. It is not simply our goal to establish a business relationship, but to maintain and grow a long lasting business venture with your best interest always at the forefront. RevenueStreet provides a powerful proprietary affiliate platform for it's qualified publishers. Our publishers will benefit from the industries highest payouts, top converting offers, largest selection of campaigns and customized payout plans(ask your manager for details). Our dedicated affiliate managers will help you succeed in all of your Marketing endeavors, but also assists its merchants in seeking the most effective way to generate conversions. This is a 2-tier Advertising Network. You can instantly earn $50.00 plus 5% of the earnings from all new affiliates that you get to enroll in our network who are approved.

&nbsp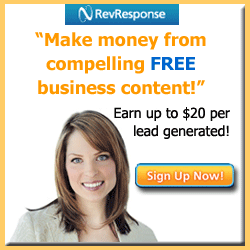 RevResponse - is a premiere business focused ad network that goes beyond banner-styled advertisements. Check out the RevResponse difference and make money in several ways! Run ads for compelling FREE business content to your audience. The RevResponse Ad Wizard allows you to create contextual, banner, and flash widget offers ready to cut and paste in to your online properties. Promote your own co-branded RevResponse FREE Business Content Resource Center. No other ad network allows you to make money from a complete inventory of advertiser's content. Earn money by offering FREE business content advertisements in e-mail and newsletters. RevResponse templates make this high-profit payout easy to do. Customize your own offers with the RevResponse Offer catalog or push great FREE business content offers directly to your audience using the RevResponse RSS Feed. High-payouts and more! RevResponse is a pay-per-lead ad network. Guaranteed payouts - every qualified lead generated earns you a minimum of $1.50.




&nbsp


SponsorWorks.net - provides powerful online marketing, ad presentation, ad tracking, and site monetizing tools and services to webmasters, affiliate marketers, bloggers, and basically anyone else with a web page. These tools and services are time-tested and in demand. Whether you want to boost your online revenue or jumpstart your own affiliate links, SponsorWorks have got what you need. For affiliates, SponsorWorks offer free membership, a great product, lots of ways to make money, lifetime cookies and commissions, a 2-tier structure, unparalleled tools, 20-25% lifetime commissions for directly referred paid signups, 5% commisions from ad sales by direct referrals, 5% commissions from sub-affiliate, referral signups.

&nbsp
Tell-A-Friend-King - Gaining referrals through word-of-mouth advertising has always been one of the most powerful ways to acquire new business. This is especially true for the web. A referral from a trusted friend or associate can make all the difference in converting a visitor into a customer. That's where Tell-A-Friend-King come in. Tell A Friend King is a professional referral system for your website. Tell-A-Friend-King have extended the "tell-a-friend" concept far beyond the limitations of traditional scripts and services. Add their service to your site and watch your traffic grow. Earn an ongoing 20% of the recurring fees for each referred customer, for as long as the customer remains in good standing.

&nbsp


Toluna - The Toluna Affiliate program enables sites and blogs to participate in online advertising campaigns to increase the revenue that they generate from their advertising space. Toluna regularly updates their advertising formats to ensure a high CTR and ROI for each affiliate and pay between £1-2 for each UK registration. Plus there is complete control and transparency for each affiliate with their own access panel to monitor the campaign in terms of impressions, clicks and registrations in real time statistics. With Toluna Affiliation is easy and rewarding. Join today.

&nbsp


Trienta Affiliates - is a powerful performance-based Internet marketing network dedicated to advertisers to consumers through its powerful affiliate network. For Advertisers, we offer an extensive network of website and e-mail distribution. Our network currently advertise a range of companies in all kinds of industries. Advertisers pay only for the results they achieve on a cost per click, cost per lead, cost per acquisition, or cost per impression basis, as well as combinations of those models. So you only pay when you get a 'real' result, we take the risk out of advertising. For website owners (affiliates), Trienta Affiliates generates high revenues per impression promoting compelling offers from quality brands in graphical formats that complement the publishers' sites and add value for their customers. So not only do we add value to your site, but you even make money from your website.

&nbsp


Video Intelligence - is a mobile video SSP, providing a short connection between publishers and advertisers. We focus on helping publishers maximise their monetization potential through premium video ad placements that match the content and are relevant for the audience. As audiences gravitate towards watching over reading, our algorithm matches video stories to text, and brands to consumers. We provide self-serve tools for publishers to captivate and monetize audiences. vi is trusted by 12,000 apps and sites. Payment models: eCPM, CPC, CPCV. Earn 70% revenue share.
















&nbsp