Marketing Affiliate Programs
Page 3 of 3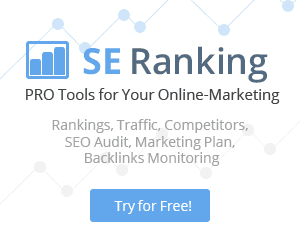 SE Ranking - give you simple, powerful tools that make SEO tracking fast and easy. Monitor daily changes, measure keyword performance, and improve rankings with simplicity. You don't need any special skills to be a successful SE Ranking affiliate - in fact, you don't even need to own a website to become one! You can use your blog, your Facebook account, Yahoo answers, Adwords articles, forums, etc. to place links to our website, provide consultations concerning our services, or simply recommend them to others. Get 25% commission from each sale!






&nbsp
SEOprofiler - is a cloud based Internet marketing software tool that helps business owners to get higher rankings on search engines such as Google and Bing. SEOprofiler is the main product of Axandra GmbH. Our company that has been developing Internet marketing solutions since 1997. We developed the first website promotion tool for Apple Macintosh computers, one of the first pay per click optimization software tools and the extremely popular Windows SEO software tool iBusinessPromoter (IBP). Internet marketing is our passion. This is a fast-changing market. Adaptation to constant change and continuous improvements are the key to success. We continually improve SEOprofiler to make sure that it works with the latest changes of Google and other search engines. We pay our partners up to 50% per sale and we pay on time, every time.



&nbsp
SKU Feeds - provide Powered Product Marketing to eCommerce Businesses. Giving small and large based eCommerce businesses the opportunity to submit their product catalogues to a variety of free to use shopping channels such as price comparison sites, coupon code sites, deal sites and other social shopping channels. Using SKU Feeds can help an eCommerce business improve traffic, increase awareness and promotion whilst most importantly increasing sales. Receive a recurring monthly commission of 25% for every referral! Receive a 35% one time payment for your sub affiliates referrals.

&nbsp
Sociable Video Training Course - The Sociable Video 2013 Edition is a training course dedicated to making you awesome at leveraging the conversion power of marketing with video. Focusing on the creation of highly shareable creative content that empowers interaction and action. I will show you step by step how to get started and succeed in the world of video marketing. From overcoming your fear of being on camera, to what types of content people share, how to trigger them to share it, the technical aspects of production, equipment for any budget, video search engine optimization, setting up your YouTube channel, leveraging influencers, seeding your videos, interacting with you viewers and so much more! Video connects with your followers and customers in a more powerful way than any other marketing method. Most businesses and brands are still doing it wrong. I will show you how to do it right so your followers will deeply connect with you and your business. Paving the way for more sales and life long customers. Earn 55% commission on my brand new for 2013 Video & YouTube Marketing training course. This is the hottest sector of online marketing right now.

&nbsp
Socialsprinters - is the industry leading SaaS provider and the fastest way to create applications for Facebook business page. Subscribers can add professional applications to their Facebook Page and start collecting new leads, sales or just entertain their customers. Everything in a few minutes. 8 reasons why customers buy from us: Rocket sales! Show products on Facebook page with our apps and increase the sales; No expensive market surveys! Get all the information needed about the customers; The number of followers on Facebook page will rapidly grow; Get new subscribers for newsletter; Create own Facebook apps and get fans engaged; Increase the popularity of brand; Keep the overview of statistics in real time; Turn fans into customers. Our affiliate partners earn 30% per sale. Please note that our cookie tracking period at set to 'never expire' so, you will get paid for all subscriptions and renewals.


&nbsp
Spocket - is a dropshipping marketplace app on Shopify and WooCommerce focusing on US and EU suppliers so customers can receive their order in 2-5 business days. With over 25,000 active stores and 100,000 products, dropshipping will never be the same again. Earn 50% commission on the first 6 months of a subscription. Based on our price structure, $40/mo or $100/mo depending on the plan, it is anywhere between $120 - $300 per customer (and a $2 fixed rate for anyone who signs up for a free plan). We have found conversions to be around 5-7% of raw traffic for subscriptions.





&nbsp


SponsorWorks.net - provides powerful online marketing, ad presentation, ad tracking, and site monetizing tools and services to webmasters, affiliate marketers, bloggers, and basically anyone else with a web page. These tools and services are time-tested and in demand. Whether you want to boost your online revenue or jumpstart your own affiliate links, SponsorWorks have got what you need. For affiliates, SponsorWorks offer free membership, a great product, lots of ways to make money, lifetime cookies and commissions, a 2-tier structure, unparalleled tools, 20-25% lifetime commissions for directly referred paid signups, 5% commisions from ad sales by direct referrals, 5% commissions from sub-affiliate, referral signups.

&nbsp
Stencil - is a powerful image creation tool that is used by social media marketers, bloggers and small businesses. Stencil is simple to use and built for speed, meaning anyone can create beautiful images quickly to double their social media engagement. We're always looking to invite more friends into our community of bloggers, creatives, marketing professionals and business owners. Earn 30% commission on sales.



&nbsp
TopLine Distribution - The New High Profit Distribution Plan. TopLine Distribution are The Fastest Growing Supplier Of Liquidated, Closeout Merchandise In America. This Is A Business Opportunity For Individuals To Start Working One On One With Us, Marketing Top-Of The-Line Liquidation Merchandise. TopLine Distribution have a professional team of marketing specialists devoting their time to finding the best closeout/liquidation deals in America. We then Supply Distributors with these products and dropship to their customers. TopLine Distribution currently offer our affiliates $50 per distributor referral!







&nbsp
Trendosaur - is a Daily Online Retail Sales teller. It tells exactly what products to sell in one's region. Our Trending Product reports are generated on the spot and include the top 20 products to import, the optimal buy and sell prices and also qualified suppliers to source the products from. Trendosaur helps online retailers make money by showing them the top selling products to sell. We use live big data analytics of the global retail market to determine exactly what products each individual retailer should sell in their particular region to gain the maximum profits. Our customers include retailers of all sizes eBay Sellers, Amazon Sellers, Groupon and online retailers of all sizes. As an honored Trendosaur Affiliate Partner, you will earn 50% commission on each sale. Our cookies are set to track residual recurring sales for a 90 days.

&nbsp


Video Intelligence - is a mobile video SSP, providing a short connection between publishers and advertisers. We focus on helping publishers maximise their monetization potential through premium video ad placements that match the content and are relevant for the audience. As audiences gravitate towards watching over reading, our algorithm matches video stories to text, and brands to consumers. We provide self-serve tools for publishers to captivate and monetize audiences. vi is trusted by 12,000 apps and sites. Payment models: eCPM, CPC, CPCV. Earn 70% revenue share.










&nbsp
Wealthy Affiliate University - Absolutely everything you need to start, create, and grow a successful business online is included at Wealthy Affiliate. We cater to all levels of experience, someone with zero knowledge to someone with years of success online, we can help. Wealthy Affiliate is the most active, engaging and helpful community of over 190,000+ members, and growing! We want YOU to be one of our next success stories and know you will absolutely love Wealthy Affiliate. And best of all, it is completely FREE to get your business rolling. This includes access to our famous "Getting Started" training course, TWO beautiful websites with hosting, live help and support, and access to 10,000's of community discussions. Commissions are $8 for the first month $19 special offer, then $22.50 thereafter. Starter Members earn $4 for special offer referrals, then $11.25 monthly and $87.50 yearly commissions.


&nbsp


Whats On In Group - The "Whats On In Group" is a company that offers a unique Homebased Business Opportunity to anyone around the world. Our popular "Whats On In" theme websites are now appearing in many countries, it offers anyone the opportunity to join into the "Whats On In" group with their own personalised "Whats On In" advertising website. Online advertising is now growing at a spectacular rate and sales will hit the 1$ Billion dollars in the next 12 months. More and more people want to take a slice of this massive Billion $ market place The "Whats On In" business opportunity is the perfect opportunity for many people around the world, Its homebased, easy to operate, a massive market and growing at a consistent rate every year. And YOU as an Affiliate can make from £200 to £1,000+ pound sterling for each converted referral lead that comes to us with your personalised affiliate link. WOI Affiliate Program is a HIGH Affiliate commission, paying out 45% with a minimum of $300 up to $4,000. We have created an amazing "Exclusive" region, postcode area, state, or territory for those business opportunity seekers who want to enter into global market of online advertising. With their own unique theme "Whats On In" website. You would be reaching out to the 700 million people always on the lookout for a excellent business opportunity. This is a Global Affiliate program and you can promote this Business Opportunity into 193 countries.

&nbsp
Winning Ware
- WinningWare™ Online Marketing Products and Solutions. WinningWare™ brand digital information products and packaged solutions provide businesses with professional-grade help for their product launch, email marketing and online sales process optimization needs. WinningWare DIY product launch tools and email marketing campaigns contain complete strategies, tactics, advice and specific email content and sequences to help businesses construct and conduct email campaigns that break through market noise and get results. WinningWare provides the tools businesses use to: Monetize list assets with high-powered product launch and special-offer email campaigns; Accelerate and increase product adoption by creating focused communities around a product or website; Gain additional leverage and ROI from existing list assets, products and websites. Earn up to $499 per sale.





&nbsp