Art Affiliate Programs
Page 2 of 2

Hochanda - the home of Crafts, Hobbies, & Arts is committed to providing a variety and extensive range of hugely popular products which are simply irresistible for your craft, hobby and art projects. Whether you're passion lies within Papercraft, Sewing & Needlecraft, Kitchen Craft, Home Crafts, Arts, Jewellery Making, Knitting or Caring For Your Car - We Have Everything You Need. Earn 10% commission on sales.

&nbsp
Huggler - Capture special memories, create extraordinary photo books. Who are Huggler? Creators of high quality, affordable photo books and personalised gifts. We have a genuine passion for helping our customers share their photos, creations and memories. What do we offer our customers? A growing range of high quality, personalised photo books, calendars, gift cards and more; Safe, secure and free online storage for your most cherished memories; A variety or ways to share your photos via post, email or social media; An easy to use site with secure online payment protection; Free worldwide delivery. What do we offer our affiliates? Extremely competitive commission structure starting at 20%; 90 day cookie length.




&nbsp
Human anatomy for the artists - What is the secret of amazing character drawing? Is it talent or skill? Would you like to master it? There is nothing like real high resolution photos when it comes to learning human anatomy. Makes sense, right? You want your characters to look as real and authentic as possible. Doesn't matter if you are creating fantasy or real world characters. Spectator should believe they are from flesh and bones. He should hear their breathing and expect them to move out of the screen. Ask any Pro. There is no better way to master human anatomy than drawing from real world. However, not everyone has personal team of models off all races, body types and age groups wiling to pose 3 hours per day. What's next best thing? It's huge collection of high resolution photos of models in all kind of poses and angles.You can study every little detail as if you walk around your model only few feet away. Huge collection of high resolution anatomy photos for CG artists and illustrators. Currently over 19.000 photos of human models in all kind of action and traditional poses from all angles. These stock photos are royalty free so they can be used for creation of commercial art. Affiliates earn 50% residual commission on referred sales.

&nbsp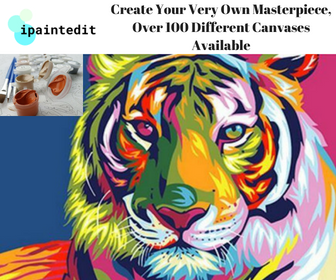 I Painted It - sell painting by numbers kits for everyone. Many adults now enjoy painting by numbers as it makes a great hobby and when completed you have a piece of art that you can hang on your walls for many years to come. We sell kits for all abilities and also offer custom made kits which are extremely popular as you can upload a photo of your family, a pet, anyone or anything and we will create a kit so that you can recreate this photo as a painting. All our kits include the numbered canvas, brushes and paints. We pay a commission of 15% to our affiliates on all sales they generate.





&nbsp
MisterArt.com
- is the world's largest online discount arts and crafts supply store with over 40,000 brand name products at discounts of up to 80%-off. MisterArt.com continually offers the best price, best selection, and best customer service for all your art supply needs. Earn 7% commission.

&nbsp
My-picture.co.uk - is currently the most affordable supplier of canvas prints in Europe – with the best quality and fastest delivery. Several sizes and formats are available starting from just £7! Not all that glitters is gold, you think? Well, with us, it is! Because we bring your pictures on canvas and let them shine! Of course, you get the best quality: for your photo on canvas, we only use vividly coloured, lightfast ink and art canvasses with a high amount of white. To put the finishing touches on your photos on canvas, you can order – additionally to our standard 2 cm deep wooden gallery stretcher frame – a 4 cm version. You want your canvas prints to be personalised? Try our special effects for your canvas print photo, that you can change back at any time. The offered sizes for your canvas pictures vary from 20 x 20 cm up to 120 x 80 cm. If you have uploaded your pictures and chosen the size for the print on canvas, you'll find that we make this process as easy as possible for our customers. Try our service and order your individual photo on canvas today. Earn 16% commission on sales.

&nbsp
On Trend and Fab - From vintage travel posters to contemporary nursery posters in a wide range of sizes, all are printed using the latest pigment ink technology and highest quality fine art papers and canvas. A fantastic range of re-mastered patent images from a wide range of subjects. Make a bold an interesting statement with patent prints as wall art. All of our giclée ?fine art prints are made using the latest HP and Epson printing systems with the highest quality archival art papers and pigment inks which can give each print a lifetime of up to 200 years. All of our prints are available in a range of standard sizes, both imperial and metric, and most can be made to custom sizes on request. All of our fine art prints are printed on archival quality, acid free art papers and are carefully wrapped in acid-free tissue before packing for transit. Earn 20% commission on sales.

&nbsp
Parabo Press - is a photo printing service created for the new generation of memory makers, photo takers and living space stylists who want to show off their photos with high-quality prints at accessible prices. We offer fantastic promotions including free 4" square prints and 5.5" square photo books where the customer just pays shipping. Earn 5% commission on sales.





&nbsp
Parabo Press (Australia) - is a photo printing service created for the new generation of memory makers, photo takers and living space stylists who want to show off their photos with high-quality prints at accessible prices. We offer fantastic promotions including free 4" square prints and 5.5" square photo books where the customer just pays shipping. Earn 5% commission on sales.






&nbsp
PixMac - Earn up to 50% of Pixmac's earnings. Regular income forever. Commision from both sides - purchase and sale. Real-time reporting Link to any page. PIXMAC is here to be the fastest, most usable and reliable microstock agency out there. If you're looking for the best picture or just trying to sell your best shot PIXMAC is here to be your perfect tool, with accurate search results, helping the users with each step.





&nbsp
Printable Heaven - sells digital images to download and print at home and CDs & DVDs full of public domain images. Most of our work has been designed for people who make handmade greetings cards, however it is also suitable for many other handmade projects including scrapbooking and decoupaging, etc. We also sell a range of craft supplies including card blanks, envelopes, self-seal card bags, A4 card, sticky pad squares, double-sided tape, gems and more. Earn 15% commission on sales.





&nbsp
Redbubble - helps independent artists sell their work on products like t-shirts, iPhone cases, stickers, art prints, posters, greeting cards, and more. The site features illustrations, painting, drawing, printmaking, photography, and digital design from around the world. We stand for artists; the work they create; the audiences they inspire; and the customers they move. With millions of works available for purchase on dozens of products, shoppers are sure to find art and apparel that sparks their interest. Good affiliate partners include sites focused on fashion, lifestyle, shopping, art, vintage, gifts, eco-friendly, DIY, decor, and other related topics. Earn 10% commission on sales.





&nbsp
RicsArtShop.com - is a successful affiliate operation with a broad reach. Ric's Art Shop offers 870+ classic reproductions of vintage posters and artwork. Extensive collection of Classic Pinup Posters & Vintage French Posters. All their beautiful artwork is custom printed using the finest quality canvas and ink. The originals have been meticulously prepared to provide the best print possible. Ric's Art Shop feature easy, fast online ordering, and usually ship a rolled print order within three business days. Earn 15% commission on sales.


&nbsp
Tradebit - is a digital products hosting and selling platform. Tradebit provides a market space for the creators of original digital content to easily sell their products. These products include MP3 Albums, Karaoke Music, Movies, clipart and software scripts. Tradebit is used as a tool on over 15,000 sites worldwide to sell downloads for artists, poets, small and big publishers and even gamers selling in-game upgrades. Tradebit Mp3 album affiliate program gives you a mega collection of Mp3 songs to resell with great commission and a high conversion rate. Earn 8% base commission, cookie period life time, weekly payment, no minimum balance require.

&nbsp
Van Gogh Studio - sells hand-painted Van Gogh reproductions in oil on canvas. We are based close to the Van Gogh Museum in Amsterdam in The Netherlands. Almost all paintings in the original size of the Van Gogh painting are US$525. Customers regularly choose a larger version for US$695. We are happy to pay publishers 10% of the sales price and are looking for a long lasting personal business relationship. Let's help each other.

&nbsp

Web Icon Set Bundle - offers over 1000 unique web icons, social icons, mini icons, payment icons, app icons, mobile icons and more for web professionals. Our unique Web Icon Set Bundle is now available for the astonishing LOW price of only $79.95 – deeply discounted over the regular price (and true value) of $460. We have every website icon you can imagine – all perfectly scalable… in the proper format… with multiple designs and varieties to fit your every project. They're all royalty-free, premium icons – the kind you would normally pay a small fortune to use. Over 1,000+ icons are bundled together in our set – ideally suited for any website, web application, or wireframe creation. They're very professional. Very modern. And very handy to have at your fingertips – all in ONE bundle! Use them on your own website. Or use them for your clients. Use them whenever you need to make your work look its very best! They also run affiliate programs to promote these quality stock icons online.

&nbsp
Zazzle - offers one-of-a-kind products by real people. Infinite and instant, Zazzle is the only on-demand retail platform for consumers and major brands, offering billions of retail quality, customized products shipped within 24 hours. At Zazzle, everyone's an artist. Choose from over 350 different types of products including t-shirts & apparel, cards & postage, mugs & drinkware, and postage & prints. Zazzle's new affiliate program through DoubleClick Performics offers an improved payout structure with standard 15% commission on all product categories for new and existing customers, and 45-day commission duration. Zazzle also offers the following on-going monthly performance bonus: Total Sales equal to or greater than $1,500, increase commission to 18.75%; Total Sales equal to or greater than $3,000, increase commission to 22.50%; Total Sales equal to or greater than $5,250, increase commission to 26.25%.

&nbsp