Travel and Holidays Affiliate Programs
Page 2 of 5
Page 1, Page 3, Page 4, Page 5
Dumonde - is a Travel Management Company specializing in travel to Latin America and the Caribbean. Our passion for travel, together with our vision to provide excellent customer service, turned us into one of the biggest suppliers of air tickets, long and short haul holidays, hotel rooms, rental cars and more. Since 1997, Dumonde has helped thousands of travelers reach their destinations at a discount. Today, we are proud to give our customers the ability to book their travels with just a few clicks, either by using the Dumonde Travel website or our recently published App. The innovative and intuitive features of our platforms together with our best value prices result to a powerful and low cost experience for every traveler. Earn $4.00US per sale.

&nbsp
ebookers UK - At ebookers we're passionate about travel. We believe in more surprising, more extraordinary, more rewarding travel experiences. From the awe-inspiring Northern Lights of Scandinavia, to the sparkling cultural heritage of South America, we help our clients find perfect holidays, all over the world. ebookers is part of Expedia Inc., one of the world's leading full-service online travel agents with localised websites in 7 European countries. More choice - With over 400 airlines and more than 270,000 hotels we have the largest collection of holiday combinations globally, giving customers the best choice for any trip. As well, with our Price Guarantee customers can always be sure that they are getting the best price for their trip. More Savings - Customers can save up to 15% when booking a flight + hotel together. Secure incredible value with ebookers price guarantee and get the best hotel prices only when you register with ebookers Insider Pricing. More Rewards - With our BONUS+ rewards programme customers can earn up to 5% cash rewards on travel purchases that you can instantly redeem on hotels while getting free upgrades, Wi-Fi, breakfast and exclusive benefits. We offer publishers one of the most competitive commission rates in the market and give you all of the tools you need to maximise conversions and commission. You can earn commission on our wide range of products from flights, hotels, car hire, flight + hotel and activities, all with a 30 day cookie window. Commission rates: Flight 1.2% per transaction; Car 5.5% per transaction; Hotel 6% per transaction; Hotel+PC 3% per transaction; Package 3.5% per transaction; Package+PC 2% per transaction; Activities 12% per transaction.

&nbsp
El Monte RV - is America's premier nationwide RV rental company. The company was founded in 1970 by Ken Schork in the town of El Monte, California. Since then, the company has grown to become one of the largest companies offering motorhome rentals in the world. El Monte RV has locations throughout the United States, and is known worldwide for its commitment to offering quality recreational vehicles and services to those looking to rent a motorhome. The company is represented by several hundred wholesale travel companies and thousands of travel agents throughout the world. Approximately half of the company's rental business comes from overseas travelers who fly in to various cities throughout the U.S. El Monte RV's other divisions rent production trailers and fifth wheels to the entertainment industry, and include motorhome dealers that sell its used rental RV's. El Monte RV pay a 5% commission on net rental revenue.

&nbsp
Etihad Holidays - launched in 2004, is a division of Etihad Airways that offers dynamically packaged holidays such as flight + hotel and flight + car at exceptional rates with many of the world's leading hotel brands. Etihad Holidays also provides an extensive range of additional services including its stopover programme, tours, excursions, family attractions, safaris, and car hire, all of which use the Etihad Airways and partner airline flight network. All hotels are graded based on stringent criteria and feedback from customers so they may differ from their official classification. Complete packages including fly-drive, car rental, special tours and cruises are also available. Etihad Holidays is available at present to customers travelling from the UK and UAE (with more countries to follow), enabling customers to book online at the best available rates with instant confirmation. Information including hotel descriptions and TripAdvisor ratings, together with hotel images and video clips are widely available throughout the website to assist guests and travel agents with their hotel selection. Extended tours and additional features such as rental cars and a wide range of transfers, tours, excursions and attractions can also be accessed online. Etihad Holidays work with a wide range of publishers – though please check our Terms and Conditions to confirm any exceptions. At present, we are not seeking new partners to operate remarketing, retargeting or PPC services on behalf of Etihad Holidays, as these services are already run in house or covered by pre-existing third parties. Other than this we offer a very warm welcome to partners from all over the world interested in promoting the Holidays product. Etihad Holidays pay 3% commission for a wide range of high-end vacations, with AOVs currently between 3000-4000 USD.

&nbsp
eTravelFlorida - Want to make your web site profitable? eTravelFlorida are offering $20 per sale on a $99 5 night Florida Vacation package with hotel & two 2-day / 1-park Universal Studios Tickets. eTravelFlorida have multiple offers, fast honest payment, and support via phone and email. eTravelFlorida are willing to work with alternative large volume lead suppliers as well.

&nbsp
Exoticca UK - is the future of travel. We are dedicated to offering exclusive and invaluable travel experiences. We are committed to providing the utmost level of comfort, quality and innovation, whilst always ensuring we offer the most competitive prices on the market. Our exclusive travel offers are offered for a limited time at incredible prices. Transparency and exclusivity form the basis of our unique offers. The essence of Exoticca lies in its respect and admiration for other cultures, for this reason we collaborate with charities for good causes, helping those in less fortunate regions of the planet. Exoticca carries out various solidarity actions and offers its customers the ability to donate a percentage of their booking fee. Commission: 7.7 %. Cookie period: 90 days. Average purchase price: £3,500.



&nbsp
Expedia Canada - Expedia Group is one of the world's leading full-service online travel agents with localised websites in over 30 countries, offering access to over a million bookable properties around the world (from vacation rentals, to boutique hotels, to major brands), over 500 airlines, over 175 car hire companies, and a wide array of ground transport and experience opportunities. Customers can save up to $500 by booking flight and hotel together. By combining choice with specialist tools, Expedia.co.uk helps travellers to find and create the trip that best matches their individual requirements. Now with the award-winning Expedia mobile apps for smartphones, tablets and wearables, people can plan, book flights and hotels on the move. The Expedia apps offer helpful tools to manage your trip including: airport terminal maps; hotel check out time and flight status notifications; maps to your hotel and a host of other features. Affiliates can generate commissions from 'consumed transactions' across any of Expedia's product; flights, hotels, packages, car hire, airport transfers, and activities. A 'consumed transaction" means a travel booking that has been consumed, meaning (i) for hotel booking, that the check-out day of such stay has occurred; (ii) for a flight booking, when the last leg of a one-way or return flight is completed; (iii) for a car rental booking, when the car rental is returned; (iv) for an activities or services booking, that the activity has occurred or the product has been fulfilled; and (v) for a Package booking, when all travel components of the Package have been completed. Expedia offers competitive commissions across all their products, so that affiliates can reap the rewards for sending traffic to the world's largest Online Travel Agency (OTA). Our standard commission rates are based on a percentage of the Gross Booking Value, except standalone Flight transactions, which is a fixed amount (due to margins): Flight: $2; Hotel ESR: 5%; Hotel: 2%; Package: 2%; Activities: 5%; Airport Transfers: 5%; Car Hire: 5%.

&nbsp
FBM Holidays - is one of the most successful self catering holiday agencies in West Wales. FBM Holidays is located in the beautiful seaside town of Tenby, where our local staff can advise you on any aspect of your holiday. For well over a century FBM Holidays has been the leading name for self-catering holidays and year-round short breaks in beautiful west and south-west Wales. And this year, we've gone even further than ever to offer you the best possible choice of attractive holiday properties, in the most stunning locations - and at the best ever value-for-money prices. FBM Holidays are the longest established holiday cottage letting agency in West Wales. We have an outstanding reputation and a large range of premium properties. Our average holiday value exceeds £600. We pay £19 per sale.



&nbsp
FHR Airport Hotels & Parking - have been serving travellers for over 28 years and offer a range of hotels (including Hilton, Holiday Inn and Marriott), airport lounges and car parks (across 20 airports across the UK) to suit all budgets. They work with a number of established and reliable companies to ensure that your holiday gets off to a great start. This includes transport to and from the airport terminals as well as guaranteeing that parking is always at manned and secured sites Here are just some of the reasons to promote the program: - 10% commission (3% commission is paid if a voucher code is used) Services available at all major airports including Gatwick, Heathrow, Manchester, Glasgow and Edinburgh Generic discount codes available.


&nbsp
First Choice Holidays - are part of the TUI Travel PLC Group of companies – the UK's leading leisure travel company, specialising in sun holidays worldwide and charter flights. They are the family friendly travel provider with fantastic resorts, units, pools, products and services. First Choice's advertising strategy is to grow preference for First Choice among family audiences by reinforcing perceptions of First Choice as the family holiday expert. Why First Choice is the family specialist: Kids Clubs – FC have more kids clubs (this includes crèche, kids clubs and teen clubs). Kids clubs are well equipped /bright/entertaining Play & Learn - Activities tied in with the national curriculum Get Active - Teaching kids to keep fit from Summer 09 – including yoga, fit n' fun, family Olympics, Tattybumpkin Activity Volumes - In other resorts/hotels there's not always something going on all the time for everyone – but at a FC HV there is! Baby packs - Baby packs and buggies are supplied at hotels, available for parents to purchase, saving room in their luggage Luggage allowance - From Summer 09 parents will be given an extra 10kg for babies luggage Kids rooms - Entertaining kids outside and inside the rooms is key to us – we offer tv's, dvds, games console, bunk beds, colourful rooms, fun rooms, just as a kids room should be Teenagers - We are the leading in teenage provision Crèche - We offer a crèche service up to 11pm at night allowing for parent time Please note: First Choice has chosen not to work with Voucher Code affiliates at this time, any affilaites found to be driving traffic via these means may have their commissions reversed. Earn 2% commission on sales. The First Choice program offers advanced links for your site including this example for the First Choice Holiday Village Costa Del Sol.

&nbsp
Globehunters.com - is an online travel agency that sells flights to all destinations at a US airport. The main airlines we would like to receive calls for are Delta Airlines, Jetblue Airlines, United Airlines, American Airlines, Hawaiian Airlines, Alaskan Airlines, and Frontier Airlines. Caller must place a call through a trackable phone number that meets the commissionable criteria specified by the Advertiser in the CJ PayPerCall account. In developing your PayPerCall program, you will receive unique, trackable toll-free phone numbers that drive calls to our own call center. You can implement these phone numbers on your website, in keyword information, and offline! Commission Junction will even place your unique toll-free number in any creative you request for this program. This will enable you to drive calls right off of a banner! All commissionable calls are tracked through the Commission Junction PayPerCall platform, and will be credited to you at the beginning of each month. Commissions will appear as a "bonus" within your traditional CJ Account Manager.

&nbsp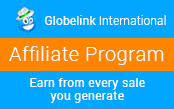 Globelink Travel Insurance - are an independent insurance agency/brokerage serving the insurance needs of the travel community. Globelink's range of policies has been specially selected to provide a sensible level of cover at reasonable cost. Globelink aim to provide cover for virtually any of your requirements. Cheap travel insurance annual travel insurance backpacker insurance and ski insurance cover online. With instant online quote and immediate cover on the internet or by telephone it has never been so easy to purchase annual holiday insurance and annual multi trips in the UK and Ireland, annual insurance policies with optional ski insurance our backpacker insurance cover for single trips, long stay and long term products for Europe or Worldwide, Australia and New Zealand all include adventure sports and many hazardous activities. Globelink.uk.com Affiliate Program allows you and your clients to purchase our range of travel insurance policies on the Internet through your agency's website, automatically crediting you with the sale. Affiliates will earn 10% - 15% for every sale you generate and 25% of all sales generated by 2nd tier affiliates! Globelink offer Website Integrated Quotation Wizard installed at your website, due to which your visitors do not have to leave your site to purchase the policy, they can do it straight on your web site, so you will not lose your potential customers.

&nbsp
Goldcar - Travelling the world together since 1985. The company, with more than 30 years of experience, currently has more than 80 car hire offices, located at major airports and tourist destinations. A wide network of customer service present in Spain, Andorra, Portugal, Italy, France, Greece, Malta, Netherlands, Romania, Croatia, Morocco and Mexico. The group offers its clients more than 50,000 vehicles of which more than 80% are renewed every year, providing one ne of the youngest fleets in Europe and a highly skilled workforce of over 1,000 professionals dedicated to providing clients who trust in Goldcar's transparent and innovative quality of service. The most competitive commission rates in the market: 6% per sale. Enjoy a promotional commission rate of 8% per sale until 25th January 2017.



&nbsp
Great Little Breaks - There are many things that delight us so we've created a unique selection of short breaks with you in mind, to delight you in many ways from a relaxing great little pamper break, a fabulous great little gourmet break or something special for the two of you with a great little romantic break. Booking your short break is easy and includes added extras we know you'll love. Whatever you decide, you'll be delighted. SAVE UP TO 70% ON SHORT BREAKS. Affiliates earn 5% commission on every booking.




&nbsp
Greater Anglia - is part of the wider transport group, Abellio Transport Holdings, and we are one of the largest train line companies in the UK. We operate the East Anglia franchise, providing the majority of commuter/regional services from its Central London terminus at London Liverpool Street to Essex, Suffolk, Norfolk and parts of Hertfordshire and Cambridgeshire as well as many regional services throughout the East of England. Our belief is that customers should expect high standards of service throughout their experience with us and we extend this approach to our affiliate partners. Earn 3% commission on sales.

&nbsp
GroundLink - Founded in 2003 and headquartered in New York, New York, GroundLink is an established aggregator and solutions provider to the ground travel industry. GroundLink provides solutions for a broad range of ground travel services, including limousines, taxis, vans, shuttles, buses, car rental and ride sharing, under one e-commerce platform with instant pricing and availability information. The GroundLink Mobile APP makes it easier for users to book, track, and stay updated on the status of their ride in real-time. GroundLink also operates private label and co-branded solutions that allow travel partners to attract additional customers. GroundLink is a worldwide service so we can work with most international partners to drive sales. We are here to help you drive revenue using GroundLink, so if you do not see specific banner sizes, coupons, or have additional ideas, feel free to reach out to us. We can discuss any elements that can help make your program successful. GroundLink provides partners with an industry high conversion rate of 6% on visits and an average order size of $100. GroundLink offers partners a 6% commission on all sales which is on the top end for this vertical. We reserve the right to adjust commission structures.

&nbsp
Holiday Extras - are the market leaders in the UK travel industry for add on products. In 1983, Holiday Extras revolutionised the holiday extras leisure market, by providing the first UK airport hotels and car parking booking service for the travel trade. Holiday Extras is still independently owned by founder Gerry Pack. Holiday Extras make arrangements for around 2.5 million passengers a year. They offer secure internet bookings so you can book your holiday extras 24 hours a day, 7 days a week. They focus on customers' holiday extras needs offering a comprehensive range of products designed to provide the best choice at the best prices. Their web site won the travel trade paper Travel Weeklys BEST WEBSITE award for 2002. Holiday Extras average transaction values for airport Hotels is $133 and for airport Parking its $70 and they will pay 3.5% (including VAT) for hotels and 7% (including VAT) for parking spaces.

&nbsp
Homestay.com - is an exciting accommodation choice connecting guests to 50,000 registered local hosts in over 150 countries. It's a unique and affordable alternative to hotels, hostels and B&B's. Hosts offer guests the chance to stay with them to live and breathe the local culture and to explore destinations in a truly authentic way. Why promote Homestay.com: Unique Product Offering - Give your customers an alternative accommodation option to Hotels, Hostels and B&B accommodation, Multilingual content - English, German, French, Italian, Spanish, Portuguese, Chinese, New homestay hosts added worldwide daily, Selection of creative banners and text links, 30 day referral/cookie period. Earn 30% commission share when your customers book on homestay.com! Customers pay a 15% deposit fee online to secure their homestay booking. You earn 30% of this 15% deposit paid online. Average deposit value in the region of USD $70, with deposits often exceeding $200 for longer term stays.


&nbsp
Hoseasons Holidays - Hoseasons Holidays is the UK's leading self-catering holiday specialist, with over 12,000 places to stay in coastal and countryside settings throughout Britain, Ireland and mainland Europe. Choose to promote Boating Holidays in the UK; Cottages in the UK; Parks and Lodges in the UK; Cottages and Hamlets in Ireland; Parks in Europe. Sign-up today and start earning a minimum of 4.25%. All Cookies come with a 120 day life span.

&nbsp
Hotel Khoj - is one of the leading agencies for online hotel room reservations and provides competitive rates for a wide range of hotel destinations. Throughout eleven successful years in the hospitality and travel industries, HotelKhoj.Com has eased the difficult process of planning trips by helping travelers book hotel rooms inexpensively and conveniently. Add a full-service travel agency to your Web site, homebased & private label travel agency affiliate programs. Hotel Khoj is always committed to bringing the next generation applications to our affiliates and enable them keep the lead. We not only offer the highest commissions in the industry but also enable easy integration with Google maps, Wordpress and auto generation to requisite hotel lists. Advanced features and other programs enabling you access video content, bringing you close to watching in real time are our hallmarks. We are an extended division of Visitusa.com, respected providers of content travel information and services, and passionately serving the requirements of the global hospitality and the travel industry since 1998. Earn 70% commission on sales.

&nbsp