UK Flowers Affiliate Programs
Arena Flowers - An Experience Delivered. Launched in September 2006, Arena Flowers quickly established itself as one of the leading online florists in the UK due to its superior bouquets, luxury gifts, its innovative approach and its great prices. Offering same day nationwide delivery, the freshest flowers and a huge range of bouquets and extras as well as the most popular payment options - Arena is your first choice online for flowers. Earn 10% commission on all sales / 5% on code sales.

&nbsp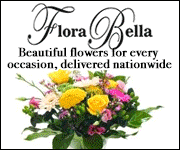 Flora Bella - Everyone Loves Flowers! Flowers brings smiles and tears of happiness whenever they are delivered because they say so much. A bouquet of beautifully arranged, hand tied flowers can say Thank You, I Love You, Congratulations, I'm sorry and so much more. We deliver nationwide, spreading happiness wherever we go, why not join us in our journey. Earn 8.5% commission on sales.







&nbsp
Bloom faux flowers - can go where real flowers won't survive - bright sunlight, dim corners, draughty halls. Interior designers and decorators like to have a wardrobe of silk flower arrangements to bring out in their proper season. Orchids can be displayed all year round and are particularly good in offices where central heating fluctuations are death to real plants and flowers. Bathrooms are particularly unforgiving when it comes to keeping plants and flowers looking their best – the lack of light and a wide range of temperatures is enough to see off the hardiest plant. The beauty of a Bloom arrangement is that it looks good anywhere and will stay looking good for years to come. Earn 6% commission on New Customer Sales and 1% for Existing Customer Sales.

&nbsp
Blossoming Flowers and Gifts - We have a small team of experienced florists who design and create each of our bouquets especially for you. We use the freshest flowers, to guarantee the bouquet will stay fresh for up to 7 days. You can also add your very own personalised gift message to all of our bouquets free of charge. We do not believe in machine made, all of our bouquets are hand-tied at our UK floristry centre with love and care by our team of experienced florists to make the perfect gift you could give. All of our hamper suppliers are UK based, and 90% of their products are sourced from within the UK. Our hampers are carefully assembled by hand to ensure that they both look attractive, and can be transported safely. This is how we ensure a quality gift is received. Please note that hampers containing fresh food can only be delivered Tuesday-Saturday. This is to ensure they are kept cool and fresh during transit, and ensure that produce arrives at it's best quality. Our spectacular range of gift wines are supplied by Laithwaites, who have been in the business for over 40 years. They have direct contact with their 450 wine producers from 25 countries and visit them regularly. We favour the wines made by families, which you will not find elsewhere, and that's what makes these gifts so special. Laithwaites wines won over 750 awards in 2013, so we're proud to be bringing you the best of their range. Our range of personalised gifts are made right here in the UK, at three locations. We care about the environment, and that's why we make sure that all of the paper that is used in our personalised gifts also comes from the UK, and abides by EU timber legislation. Blossoming Gifts offer a wide range of Flowers, Hampers, Wines and Personalised Gifts. Beautiful bouquets starting at just £9.99; Free Chocolates with all bouquets; Free delivery with all bouquets; Order by 7pm on any weekday for next day delivery. Earn 7% on all confirmed flower and gift sales (excluding delivery) and 6% on all confirmed flower and gift sales where voucher codes are promoted (excluding delivery).

&nbsp
Bunches.co.uk - offer great value flowers from £14.99 including free UK delivery and free chocolates with all orders! From flowers to balloons, we enjoy an extremely high conversion rate. Product range includes: Flowers by Post from £14.99; Hand Tied Bouquets; Elegance Luxury Flowers; Hampers; House Plants & Outdoor Plants; Seasonal flower ranges including Mother's Day; Valentine's Day and Christmas; Helium Balloons for all occassions from £12.99; FREE bag of Chocolates with all online orders. Same day despatch on orders placed before 4pm Monday-Friday and 11am Saturday. You can be a part of this and earn 8% commission on sales!

&nbsp
Clare Florist - are one of the leading online florists for flower delivery within the UK. We have beautiful flowers perfect for any occasion, available for same and next day delivery. (6 days a week) Flowers have one of the best conversion ratios online, and we're offering 10% sales commission to all affiliates. Our average order value is over £30, and peak times are Valentine's Day, Mother's Day and of course Christmas - all giving you huge potential for earnings. With a full data feed (which is updated regularly) you will always have an up to date list of all of our flowers and bouquets. Earn 10% commission on sales.

&nbsp
Flower Station - is a leading independent florist delivering a huge range of high quality flowers, plants and gifts for any occasion, every day of the week. We offer competitive prices from everyday value to luxury gifts, all made by some of the finest florists available. All our bouquets are made to order using only the freshest flowers and beautifully presented. Earn a very competitive commission rate of 10% to 15% on all our products with high conversion rates makes this program suitable to everyone. Custom performance based commission levels are available on high level performing publishers.

&nbsp
Flowercard - is a unique way to send freshly cut flowers arranged by hand inside a beautiful art card personalised with your own unique message. Only the finest, freshest and most fragrant blooms are picked and arranged by expert florists inside each design to last for up to 2 weeks. With a huge array of cards to choose from, in vibrant designs, filled with freesias, orchids, carnations, santini and sculptural foliage you can personalise your message with your own heartfelt words for any occasion. You can even send mini bouquet cards and exquisite arrangements in a gorgeous tin caddy, complete with lid to use as a keepsake for storing cards from your baby shower, anniversary or birthday. At Flowercard we've been delivering unique floral greeting cards for more than 10 years, and with over 100,000 customers to date, that makes us the largest company in mail order flowers. 10,000 happy testimonials prove we consistently get it right, delivering special gift flowers by post. You'll find every single card is backed by the exclusive Flowercard Watertight Guarantee: "If the person receiving the gift is not 100% happy then we will refund your money. Simple as that." We offer up to 30% commission to affiliates for every validated new customer sale, and 10% for sales from existing customers. (18% for new customers and 6% for existing customers for cashback and voucher sites).

&nbsp
Flowers for Everyone - Flowers For Everyone provide you with fresh quality flowers and great designs. Making someone's day has never been so easy. We provide, well, fresh flowers for everyone! Easily order superb flowers online in a large variety of styles, colours and prices for everyone. Whether you wish to send flowers for Valentines Day, Mothers Day flowers or send them in sympathy, joy, love or as a simple thank-you, our talented florists have designed a large range of divine flower arrangements and bouquets using the most gorgeous seasonal blooms. Earn 10% commission on sales.




&nbsp

Groves Nursery - is a fast growing plant, garden supplies and garden furniture supplier based in Dorset and shipping nationwide. The nursery has been running for over a hundred years and continues to grow. We offer - Plants, flowers, trees, seeds, garden furniture, BBQ's, garden lighting, garden buildings and other gardening supplies. We are constantly growing and expanding the website with new offers, products and regular content updates and CRO. Free shipping on orders over £50. Earn 10% commission on sales.

&nbsp
InterRose - offer the UK's best choice of roses online and you can buy anything from 1 to 999 roses through our unique and totally bespoke ordering form. We offer the UK's biggest choice of Rose Varieities and colours including: Grand Prix Roses, Black Baccara Roses, Blue Roses, Happy Roses, Pink Roses, White Roses, Yellow Roses, Peach Roses. We also offer some very bespoke and unique roses you won't find anywhere else including: 24kt Gold Dipped Roses, Platinum Dipped Roses, Rose petals, Year of Roses. We offer a range of all occasion flower bouquets including: Florist Choice Bouquets, Mixed Bouquets, Design it Yourself Bouquets, Freesia Bouquets, Carnation Bouquets, Tulip Bouquets, Sunflower Bouquets, Orchid Bouquets, Lily Bouquets. We offer a selcetion of add on gifts to suit the season and occasion including: Glass Vases, Teddy Bears, Helium Balloons, Chocolates, Name a Roses, Champagnes and Wines, Rose Petals, Sprigs of Mistletoe to name but a few. Earn 7% commission on sales.

&nbsp
Pickup Flowers - Pickupflowers aims to be the one stop solution for flower gift givers to send flowers online to any city in the world, delivered through the local florists. With headquarters in Wilmington, Delaware, Pickupflowers is connected with the best of the florists in all the major cities around the world to give the best service to customers by enabling them to be able to send locally available flowers and floral arrangements with the blend of local cultural traditions, online. Sell flowers, floral baskets, other unique floral arrangements accompanied by such gifts like soft toys and keepsakes and start earning commissions with each sale. Earn 18% Commission with PickupFlowers.com.


&nbsp
Post-a-Rose - Whatever the occasion, Post-a-Rose bouquets are the perfect way to express your feelings. With Post-a-Rose you can be assured of only the finest quality roses. As all the roses in Post-a-Rose Bouquets are grown by Post-a-Rose themselves, they can guarantee your bouquet will receive the very best attention right through from picking to despatch. All bouquets are arranged, presented and packed by hand into specially designed gift boxes. Complete with gift card, your own personal message, a rose care card and rose conditioner. Guaranteed freshness, excellent value and truly exceptional vase life are some of the reasons why Post-a-Rose aims to make every customer delighted. Post-a-Rose has one of the largest ranges of rose bouquets currently available and can offer optional extras which include soft cuddly teddy bears and handmade chocolate truffles. With a convenient, easy to use service and good value, we have fantastic conversion rates. Free delivery in the UK on all orders. Post-a-Rose pays affiliates 7% commission on all validated sales.

&nbsp
Roses Only - a global luxury gifting and flower delivery brand. Our program includes multiple country domains for international reach and opportunities: US - Rosesonly.com; UK - Rosesonly.co.uk; Singapore - Rosesonly.com.sg. We understand romance, after all, we have been in the business of love since 1995. We sell only the most premium, quality roses and pride ourselves on our selection of gifts for all occasions, from Mother's Day to birthdays, anniversaries, engagements, births and more. We have extremely loyal global romantic customers who seek out only the best gifts for their loved ones. Though we are a seasonal business largely driven by Mothers Day, Valentine's Day and Chrismas, we have a steady consistent pipeline of transactions throughout the year with recurring special events. We boast a 3-5% conversion rate with an AOV ~ $120. We sport many diverse acquisition and retention channels, and we really care about our customers. Earn 10% commission on sales.


&nbsp
Roses Only - Premium Roses & Flowers Roses Only is a premium flower e-commerce retailer which has been in business for over 20 years now. With iconic, branded Roses Only boxes, our business has phenomenal seasonal performance during Valentine's Day, Mother's Day, holidays and good conversion rates during non seasonal times for events like birthdays, anniversaries etc. We have an especially strong resonance with the Chinese audience and perform favourably during Qixi and other romantic Chinese occasions. Earn 20% commission on sales.






&nbsp
Serenata Flowers - deliver exclusive flowers for free anywhere in the UK. Serenata Flowers serves discerning private and corporate customers all over the UK. Serenata Flowers run regular generic discount codes as well as regular exclusive promotions with a wide range of affiliates. There is also a wide range of creative available to all affiliates. Earn 12% commission on sales or 5% if you run a voucher site.

&nbsp
Valueflora.com - offer a huge range of flowers, all available with FREE UK delivery. Valueflora have over 7 ranges including Postal Flowers, Courier Flowers, Same Day Deliveries, Fruit Baskets, Special-Order Flowers and Seasonal Gifts and offer a 100% quality and freshness guarantee with every order. Prices start from just £15 and Valueflora have regular offers and promotions that result in an excellent sales conversion rate. Valueflora also operate a five star no-quibble customer care policy and have an excellent track record. Valueflora offer the following excellent commission levels: 15% Commission for 1 to 25 Sales Per Month, 17.5% Commission for 26 - 50 Sales Per Month & 20% Commission for 50 + Sales Per Month.



&nbsp