UK Music, Video and DVD Affiliate Programs
365games.co.uk - cover eveything, from the latest game releases on Xbox or Playstation to T-Shirts, Collectibles, Gadgets, and plenty of fun stuff in between. We are based in the UK and deliver worldwide. All our games are PAL or region-free and are fully compatible with UK consoles. By buying from 365games.co.uk customers can save up to 50% off the retail price of many games and our Player Points scheme allows you to store up credit to spend on site. As an affiliate you can look forward to regular promotions, frequently updated banners and data feeds and best of all 5% commission on new customers and 2% commission on returning ones. So what are you waiting for? We have over 30,000 products for you to promote and earn commission from. Get started today!

&nbsp
7 digital - offers a secure, legal and simple-to-use music download service and a catalogue of over 25 million high-quality tracks in MP3, AAC and FLAC, fully licensed by the music industry. We believe in paying artists fairly for their work and giving you access to music on your own terms. All your purchases are stored safely in the cloud so you can download them directly to your device or stream and listen on-the-go via the Web or one of our many mobile apps. We offer a tiered commission structure: 0-20 sales = 4%; 21-50 sales = 4.5%; 51-100 sales = 5%; 101-200 sales = 5.5%; 201-500 sales = 6%; 501-1000 sales = 7%; 1001+ sales = 8%.

&nbsp


Amazon.co.uk - Books, Music, DVD, Video, Software, PC & Video Games, Electronics, Kids! and Gifts. Earn up to 15 % commission from the UK version of one the most well-known names on the net. Gift Certificates from Amazon.co.uk are the perfect present for every occasion. Whether it's for a birthday, wedding or to reward someone--everyone is pleased to receive a Gift Certificate from Amazon.co.uk, especially of course for Christmas. • Redeemable against millions of products • Free postage • Available in every value between £5 and £500.

&nbsp
Cinema Paradiso - is an independent online DVD rental service established in early 2003 with ever expanding library of over 55,000 titles. Every new member can try our service absolutely FREE for 30 days. There are no late fees, no hidden charges and cancellation is possible at any time. Members enjoy free delivery both ways that they usually receive with next-day Royal Mail service. They can keep the films as long as they like and return them when they have finished. Cinema Paradiso will pay £4 for any customer who subscribe to our service.

&nbsp

DJM Music - is an online musical instrument and accessories retailer. We were established over 20 years ago and we sell great-value musical instruments on our online store and through other market places, such as Amazon, Tesco and eBay. Our team share an enthusiasm for music but our real passion is to make playing an instrument accessible and affordable for all. With a selection of thousands of products, everyone can find something they would like to play. We place great importance on the educational sector and many of our products are pitched to the student market. We have been very popular with schools, music hubs and orchestras in Britain. DJM Music are the sole retailers of brands such as Tiger, World Rhythm, Theodore and Jasmin. Tiger especially has a very good reputation in the UK, making this a unique marketing opportunity. On a European scale, we are expecting significant growth in the future, including France, Germany, Italy and Spain. DJM Music has a 5 star TrustPilot score based on over 750 reviews, as well as over 40,000 reviews on Amazon and over 40,000 reviews on eBay. Earn 5% commission on sales.

&nbsp
Gear4music - is the best value source of musical instruments and equipment in Europe - you name it, they've got it, and at a great price too! We now include a 30 day money back guarantee as standard accross all of our products, with up to 90 days available! Gear4music has over 31,000 products from 652 manufacturers online. We have some of the most competitive prices on Yamaha, Roland, Korg, Fender and Gibson products as well as our own range of musical instruments and equipment. With electric guitars from £60, drum kits from £159.99, PA systems from £149 and many other music technology items from £50 to £10,000, Gear4music provides a great combination of quality and value. You can even book your own delivery date when you place your order online! We take great pride in our relationship with affiliates and work hard to maintain our comprehensive data feed and graphical banners. We are expanding our online marketing provision all the time, and are keen to hear all needs and requests you may have. Earn 5% commission on Gear4music branded products and 3.5% on all other products.

&nbsp
Hive.co.uk - offers a huge range of books, eBooks, DVDs, music CDs and stationery. Customers can also find soft toys, DVD and movie box-sets, Blu-rays, gifts and more. Hive.co.uk first launched in 2011, with the core aim of supporting the UK's independent bookshops while offering customers the convenience of shopping online. Hive.co.uk offer free home delivery or collection from over 360 independent bookshops around the UK. Why Work with Hive.co.uk? - An ethical and unique alternative to other online stores with independent retailers placed at the heart of the business - Entertainment specialists with a team who love all things entertainment including books, films, TV shows, and music - A fantastic and rapidly emerging brand, having been featured in both local and national press with its customers being passionate brand advocates spreading the word about Hive.co.uk across social media - Broad product range best known for an extensive catalogue of popular products, most notably new and backlist books - Offering competitive pricing whilst financially supporting the UK's independent high street shops - Hive.co.uk offer regular discounts and promotions providing customers with great savings and reasons to shop Program Benefits Hive.co.uk offer up to 8% in their tiered commission structure with a 30 day cookie period as standard.

&nbsp
HMV - is a leading specialist retailer of music, film, games and technology products, with over 120 stores around the UK, offering a wide selection of new release and catalogue titles. The hmv brand, made famous by the iconic image of the 'dog and trumpet' trademark featuring 'Nipper, is practically synonymous with the very history and development of British popular music and culture. Hmv's rich heritage as a retail specialist stretches back over 90 years to 20th July 1921 when its first store in London's Oxford Street was officially opened by the celebrated British composer and conductor, Sir Edward Elgar. Since that time hmv has made music and entertainment available to its customers in every format imaginable: from sheet music and the earliest gramophone 78s to today's digital downloads. On the way hmv has, of course, notably also taken in vinyl singles and albums, cassettes and CDs as well as film and TV content on VHS, DVD & Blu-ray and games titles across all platforms. More recently still hmv has gone 'back to the future' by carrying the latest portable technology such as headphones and tablets. As one of the first high street brands to recognise the passion that so many of us have for music, film and games, hmv virtually invented the idea of instore events and product launches, and over the years many of the world's greatest artistes have appeared in its stores to meet their fans, sometimes to perform live or occasionally just to shop. From recording giants such as Elgar and Yehudi Menuhin in its very earliest days to icons including Cliff Richard, Kate Bush, Paul McCartney, Michael Jackson, Madonna, David Bowie, Beyonce, Amy Winehouse and Quentin Tarantino and more recently Lady Gaga, Justin Bieber and One Direction, hmv has hosted them all. In 2013, HMV Group plc went into administration, with a new, streamlined hmv emerging two months later under new ownership as a lean and agile private company. Today, hmv trades from over 120 stores in the UK, more than 110 locations in Canada and is fast rebuilding its presence in Ireland. An updated product mix, refreshed stores and new digital services, together with a commitment to bring customers more exclusive in-store events and experiences than ever has seen hmv regain its rightful place as the home of entertainment. Earn 2.5% - 5.0% commission on sales.

&nbsp
MusicRoom.com - is experienced in helping its affiliates to position links and products strategically throughout their sites to improve click-throughs and conversions. Music books are the perfect online commodity they appeal to enthusiasts who know what they want and are difficult to damage in the post. Join up to our programme now to start earning money from Musicroom.com! You will earn commissions based on the sale price minus the VAT (no commissions are paid on VAT or shipping) of our products based on rates in force from time to time. Earn 5% commission on sales.

&nbsp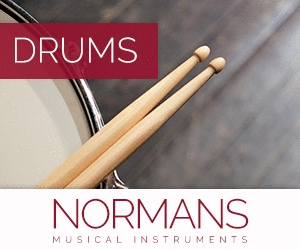 Normans - is one of the country's leading specialist suppliers of Musical Instruments and accessories. We are a family run business and have been established for over 50 years, our principle aim is to deliver the highest standards of quality and service to our customers both in the UK and across through the world. We supply Pupils, Schools, Local Education Authorities and Professional Players. In 2006, www.normans.co.uk launched for e-commerce. Within a matter of months, International Sales expand rapidly. Our distribution facility, based in Burton-upon-Trent carries 1,000's of product lines to ensure our customers have a great choice of both instruments and accessories. Good stocks also ensure that we are able to supply specialist products in super fast time. We are here to support music makers nationwide. Normans Musical Instruments has an average order value of £143. Affiliates will receive a 5% commission.


&nbsp
Simply Home Entertainment - is an experienced specialist DVD supplier, currently serving over a quarter of a million customers world-wide. Established for over 20 years, we offer a complete range of over 5,000 special interest titles, and we also specialise in producing original aviation, military and Maritime programming. Traditionally a mail order business, Simply HE is growing steadily in the online arena and has a large, loyal and growing database of customers who find our topics and range of titles refreshing and enticing. Commission Structure - Simply HE: 5% commission on sales generated. Ultimate Wildlife: For every subscriber we will pay affiliates a set commission of £8.00.

&nbsp
Spotify - is a digital music service that gives you access to millions of songs. Think of Spotify as your new music collection. Your library. Only this time your collection is vast: millions of tracks and counting. Spotify comes in all shapes and sizes, available for your PC, Mac, home audio system and mobile phone. Wherever you go, your music follows you. And because the music plays live, there's no need to wait for downloads and no big dent in your hard drive. New to the UK they are looking to expand their registered users and will pay for users to connect Via Facebook. Earn $0.60 for each new member your refer.

&nbsp
TuneCore - is a low, flat fee service that distributes anyone's music or videos to iTunes, eMusic, AmazonMP3 and many other major download sites while taking no rights and no revenue from the sale of the music. Artists are building careers, selling significant volumes of music and generating revenue while keeping their rights utilizing the new model created by TuneCore. TuneCore has distributed hundreds of thousands of songs to iTunes hundreds of thousands of songs to iTunes and other digital stores including music from record labels, Grammy winners and unsigned artists. Customers include Aretha Franklin, Beck, Jay-Z, Keith Richards, Public Enemy, Nine Inch Nails, Ricky Skaggs, Paul Westerberg, MGM Studios, Warren G, Bjork, Moby, High School Musical cast members, Ali Lohan, Cirque Du Soleil, Starbucks and tens of thousands more. TuneCore currently distributes between 150 - 250 release a day (more music is released in one day via TuneCore than any major record label over a year) and recently expanded its offering to distribute full-length films, TV shows, live concerts, documentaries to iTunes and more. TuneCore's own Billboard Top 25 seller chart went live in July 2008. Earn 7% commission on referal fees.

&nbsp