UK Toys and Games Affiliate Programs
Argos - is one of the most successful, online and high street retailers in the UK today ; and now you can make money by joining the Argos Affiliate Programme! Every time a purchase is made as a result from an Argos link on your site, you could make up to 3% in referral fees! There's a fantastic range of over 13,000 top quality, branded products to choose from, including furniture, electricals, toys, leisure items and much more, all at great value! There is also FREE delivery for orders of 150 GBP or more, usually within 14 days! There's also the famous Argos 16 day money back guarantee, so you can buy with confidence! (some exclusions apply). Please note Argos only delivers within the UK.

&nbsp
CAFAGO.com - is a wordwide online electronics seller. We sell thousands of products including cell phones, RC toys & hobbies, cameras & camcorders, smart wearable devices, LED lights, etc. At CAFAGO, we strive to provide best products at amazing price. At CAFAGO, our vision is simple: to become the premier online electronics seller by providing an unparalleled selection of the very best gadgets, an unbeatable shopping experience, prompt shipping and exceptional customer service that exceeds expectations. For us, the customer is always king. Our total commitment to customers empowers us to work closely together with every customer. When you buy from us, the sale is not complete when we ship your order, it is complete when you are totally satisfied. Earn 8-10% commission on sales.



&nbsp

Duncans Toy Chest - offers its customers a wide range of toys and games for all ages. DuncansToyChest has over 2600 in stock at any one time. Our current range features action toys and figures including Starwars, Transformers, Thunderbirds and Film related toys, dolls such as Baby Annabell / Baby Born, Barbie. Playdoh, Carebears, baby and pre-school toys such as Peppa Pig, Thomas and Friends and Fisher Price. The site is easy to use and navigate. It features shop by brand and type, as well as many filters to find the best price, new items and sale items. Every product on our website has free UK shipping. taking between 2 and 5 days. We also offer Next Day delivery for mainland UK which costs £3.50. Earn 3% commission on sales.

&nbsp
Duplay - are a leading supplier of outdoor children's toys specializing in home use Bouncy Castles, Trampolines, Swing Sets, Climbing Frames, Sand Pits and many other toys. Established in 2003 our goal is the same as back then, to provide affordable,high quality and safe toys to provide enjoyment and encourage children to play outdoors. Growing from strength to strength we now supply many leading companies including Asda, Tesco and Smyths Toys. Earn 1% commission for 0-15 sales in a month and 2% commission for 16+ sales in a month.




&nbsp
Hamleys - Come and visit our exciting NEW website and choose from thousands of the latest toys, including all your favourite brands as well as our own Hamleys collection, our quick and easy website takes the hassle out of shopping, our Regent St experience has all the magic of Hamleys including competitions and a fun monthly newsletter. Welcome to the home of the finest toys in the world! Hamleys is as much a London attraction as Buckingham Palace or The British Museum. Nowhere is the magic of childhood so precisely captured. And as toys changed, so did Hamleys; in 1981 it moved to 188 -196 Regent Street, still the biggest toy shop in the world. Earn 5% commission on sales.

&nbsp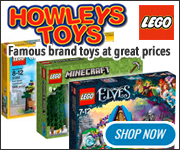 Howleys Toys - is a traditional toy shop that has transitioned well to online sales. With over 8000 products at competitive prices, you are bound to be able to find offers that your customers will want to purchase. We also sell inflatable spas such as Lay-Z-Spas, and accessories and spare parts. Please see below an example of the products that we stock: Preschool - Lamaze, Vtech, Melissa & Doug, Tomy, Thomas the Tank, Ben & Holly and more. Action Toys - Star Wars, Marvell and DC comics, WWE, Swords, and Guns. Construction toys - Lego, K'nex, Playmobil, Character. Creative - Arts, crafts and creative fun. Dolls & Plush - TY, Barbie, Disney princess, Baby Born, Baby Annabel. Games - Board games, Electronic games, dice games, and more. Collectables - Sylvanians, World of Warcraft, Schleich, Bullyland, Shopkins and many more. Outdoors - Ride ons, swimming pools, outdoor play structures and Lay-Z-Spa hot tubs. So as you can see, the range is there, no matter which part of the market you operate in. We also pride ourselves on our customer service and are happy to help customers with their purchases in any way we can. We have been around for over 25 years, and we hope to be around for many more! Earn 3% commission on sales.

&nbsp
Lego UK
- The LEGO Brand is highly regarded by parents and children alikeóranking #5 among all toy brands. Lego sell directly to consumers online, offering the widest selection of LEGO products anywhere, including exclusive, hard to find and collectable items. For our LEGO affiliate partners, that means more conversions and higher commissions! Did you know that The World's Biggest LEGO Shop is at your fingertips? You can purchase direct from The LEGO Group at www.legoshop.com. The online shop is packed with all the newest LEGO sets, exclusive collector's items, LEGO bricks & pieces for individual purchase, PLUS hard-to-find classic LEGO sets! Earn 5% commission on sales.



&nbsp

The Official Swegway - TheOfficialSwegway.co.uk is one of the UK's largest Swegway / Hoverboard shops. We offer quality boards at very competitive prices, with a 365 day warranty and top notch customer service. Our boards are safe, CE approved and built to UK electical safety spec. We always ship from UK stock. This was 2016's must have gadget, and the market remains strong for Christmas and Birthdays throughout the year. Our main market is parents buying Swegway boards for children between 9 and 15 years of age. We offer our Upgraded 2017 model Classic Swegway with 6.5 inch wheels, and our popular 8 inch wheel Huracan model. Commission start at £23.00 per valid lead and rise to £30.00 per valid lead as your sales increase.

&nbsp

Poppy and Zach - Welcome to the amazing world of Poppy & Zach the new global lifestyle store for babies and children. A one stop destination for CLOTHING, TOYS, FOOTWEAR & GIFTS for babies up to fashion conscious 14 year olds. We have some awesome brands including Blade & Rose, Frugi, Melissa and Doug, Converse, Bob & Blossom, Jellycat, Hatley to name a few! New brands and products are added to the website weekly. We are a young dynamic business with big plans to grow our retail stores and our online presence. We offer great designer brands at affordable prices all under one roof and offer Free Shipping on all our orders when customers spend £30 wish us! Our customers love buying from us therefore we have fantastic repeat business and a high conversion rate. Thousands follow us on social media and we have excellent feedback from users on Trustpilot. Earn 5% commission on sales.

&nbsp
Shop4Toys - provides excellent value toys, games and baby products delivered quickly to your door. Founded in 2004 we rapidly became a key player in the sale of video games online. Quickly building our reputation and relationships with suppliers we were able to open our first dedicated online stores shortly after. All these years later we are now an international player, retailing not only video games but everything else in the entertainment spectrum from board and card games to gifts and gadgets. We retail to all major countries and have a comprehensive distribution operation making us one of the most successful online retailers in the UK. Key Categories: Video games (PS4, Xbox One, PC, Wii U, 3DS, PS3, 360, Wii & all older formats), Board & Card Games (Hardcore and family), Toys (Toys for all ages ranging from Baby to Adult), Gifts and Gadgets (Experience days, birthday ideas and cool gadgets), Film and Movie (Blu-ray, DVD, Blu-ray 3D - New release and classics). Earn up to 3% commission on hot items selling thousands daily.

&nbsp
Toy Day - Our range of traditional classic and collectable toys has a superb appeal factor for all ages. With an average customer order value of £35 and a very high conversion rate of browsers to purchasers, makes this an attractive proposition on its own. Please note we don't allow bidding on 'Toyday', 'Toyday Traditional & Classic Toys','Toyday Toyshop','Toyday Traditional Toys','Toyday Classic Toys','Toyday.co.uk', 'Toyday.com' or any misspellings and variations of our company name in any pay per click search engines. We do allow the use of our display url and direct linking on generic and product terms, although we do not allow you to bid on our competitors trademarked brandnames and pass traffic to us. Earn 10% commission on every sale made at Toyday.co.uk.

&nbsp
Trampoline Collection - is one of the UK's biggest and competitive trampoline sellers in the UK, with a huge range of trampolines all with next day delivery available. Trampoline Collection is dedicated to providing the best quality trampolines at the best prices. We buy in bulk, store everything in our own warehouse and can send out your order straight away. We have the best range and the most options, and our customer service team will do anything they can to make your purchase quick and easy. If you are looking for a trampoline, we are the first place to look. You can even customise your own. Our average basket value is £190 and conversion rate is very competitive. Commission s start at 7% of sales and rise to 10% of sales as your sales increase.

&nbsp