UK Travel and Holidays Affiliate Programs
Page 3 of 3
New Forest Cottages - Established in 1978, New Forest Cottages is the oldest and largest letting agency specialising in self catering holiday cottages in the historical New Forest area of the county of Hampshire in Southern England. Properties range from quaint thatched cottages to comfortable town houses and luxury apartments and are set in forest, rural, town, village and coastal locations. Average basket value per booking is circa £700 and the New Forest is proving a very, very popular holiday destination. With an enviable service feedback score of 98% according to Feefo and impressive year on year growth, New Forest Cottages would make the perfect affiliate partner for your site. Commission rate to all affiliates: 1-10 bookings - 5%; 11-20 bookings - 6%; 21+ bookings- 7%. Average basket value: £750.

&nbsp
Omio - is a travel platform that allows customers to search and book trains, buses and flights across Europe. We let travellers search to and from any location, including towns and villages, and display all the transportation options possible for each journey. Capitalise on our ground breaking service to monetise your website to its full potential. We make travel easy. We are the fastest-growing travel-booking platform in Europe and currently the biggest mobile ticket issuer in the continent. 26+ million monthly visits and counting. 600+ Transport partners (train, bus and flight) and we extend this number every month. 165 Countries represented by our customers. 13 Available languages. Earn 4% CPA on a Sale.




&nbsp
On the Beach - can help you find cheap holidays by searching more than 30 million airline seats and 30,000 hotels worldwide. We don't sell package holidays, we let you choose the flight and hotel singly to find the best cheap holidays to suit your requirements, and your budget. Check out the On the Beach blog for holiday ideas, news and travel tips. Founded in 1995 On the Beach Holidays (ABTA member) is a leading player in the online travel market carrying over 500,000 passengers every year to Spain, Balearics, Canaries, Egypt, Greece, Turkey & the Caribbean. The company provides customers with a huge selection of flights and over 30,000 hotels from which to choose and build their perfect beach holiday. On the Beach, who are ABTA protected, and recognised by Hitwise as one of the most popular sites in the UK, ranked #7 in the online travel agency category in terms of visits (January 2010). Benefits of the programme include. Partner with one of the fastest growing online travel agents in the UK. Competitive commission rates – 'bonus' rates above industry standard. High average booking value – earn £30-40 on an average bookings.

&nbsp
Opodo.co.uk - More people than ever before are choosing to shop online. If you want to reach a vast audience of travel hungry users, Opodo is the right choice. Opodo are the first truly pan-European online travel company created to address the real needs of the modern traveller. As an Opodo affiliate, you'll gain access to our extensive range of products including: flights from 500 airlines; over 65,000 hotel properties; insurance; package, ski and city break holidays. You can earn: minimum Hotels 5% (returning to 4%); Flights 1.5% (returning to 1.3%); Flight + Hotel (Dynamic Packages) 3% (returning to 2%); Eurostar 5% (returning to 4%); Car Hire 7.5% (returning to 5%); Travel Insurance 3%.

&nbsp
Panoramic Villas - are dedicated to making your holiday home rental experience easy & enjoyable. We will help you find, arrange and book the Holiday Home that is right for you at the best value possible. Panoramic Villas are a progressive, professional and friendly holiday property rental company. We understand that as more and more people look to arrange their own holidays and take advantage of all the benefits that renting a holiday home brings they can be faced quite literally with a world of choice. This often makes choosing the destination and more specifically the property that suits all their needs very difficult and stressful. Finding Your perfect Holiday Rental could not be easier. Earn 1.25% commission on sales.




&nbsp
Park Holidays UK - have a great choice of caravan holiday parks in coastal locations across the south of England in Devon, Dorset, Hampshire, Sussex, Kent, Essex & Suffolk, so there's sure to be a site that's right for you. Whether you're looking for caravan holiday homes for sale, to book great UK family holidays or short breaks, touring or camping Park Holidays can find the ideal park for your holiday. Plus, with the perfect balance of lively and leisurely parks there are great facilities and entertainment to suit all ages. Visit our sites online now and discover great family holidays to remember with Park Holidays UK. PPC: Allowed to use the brand, however please DO NOT use our URL http://www.parkholidaysuk.com/ and no bidding on park names. Please no bidding on ParkDean or any other competitors brand name to link through to ParkHolidays.co.uk. Earn up to 10% commission on sales.

&nbsp
Point A Hotels - is a family-run portfolio of modern, centrally located UK city hotels that offer guests exceptional service at affordable prices. Each of the seven properties – currently six in London and one in Glasgow, with more to open soon in the UK – offer great value, comfort and homely design in convenient locations close to major transport hubs, making them the perfect base for work or leisure. The defining factor of Point A Hotels is that they provide an incredibly personal and friendly service, with a level of hospitality for guests that is unrivalled in the affordable hotel space. This means 24-hour, staffed receptions – complete with smiling, knowledgeable hosts who go out of their way to make guests feel at home – free superfast Wi-Fi throughout the hotels, water coolers, digital jukeboxes, luxury Hypnos beds and mood lighting in guest rooms, and a raft of other amenities and services. Point A Hotel hosts are generous in sharing their extensive knowledge of their local neighbourhood and many of the hotels also offer exclusive deals on restaurants, bars and beauty salons, and even free use of a local gym, through Point A Hotels' A-List loyalty programme. Our website bookings have an average order value of £230. Commission Rate: 6%.

&nbsp
Qatar Airways - is pleased to present its online partners with an outstanding affiliate marketing program. Qatar Airways is an award-winning airline and one of the fastest growing carriers in the world with unprecedented expansion, flying to over 150 destinations worldwide. As a Qatar Airways affiliate, you will promote one of the biggest success stories in commercial aviation. Exponential growth translates into a fantastic income opportunity for valued affiliate partners like you. With lucrative commissions of 2% for flight tickets sold on qatarairways.com, frequent sale promotions, and regular incentives, you will have plenty of avenues to increase your affiliate income. We will keep you updated with our latest news and offers. Look forward to see you on the Qatar Airways Affiliate Marketing Program. Sign up now! Earn 2% commission on sales.



&nbsp
Radisson Edwardian Hotels - is a collection of luxury hotels in central London, Heathrow and Manchester. The have individually designed rooms, the latest technology, new meeting spaces, chic restaurants and superior service. Traditional luxury hotels can be quite formal and stuffy; the new designer luxury hotels can have an artificial, pretentious air, where your personal sense of style is judged - we believe our guests enjoy and expect beautiful spaces - but do not want to feel that they themselves are on display, or cannot fully relax. The minute you step into one of our hotels, you are free to be whatever you want to be - this is your space to enjoy and we'll take care of you. It does not mean a laissez-faire attitude towards service - far from it. The service you will find here is natural, straightforward, and professional - it is also extremely friendly. Earn from 4% - 7% on all bookings you refer.



&nbsp
Reservations.com - is a reputable and well-known brand. As one of the top accommodations companies, Reservations.com can instantly provide quality hotels with customer ratings, rankings, amenities and updated discounted prices in real time. Customers can even search hotels by popularity, luxury level, or the most cost efficient. With a mobile friendly website, customers can access last minute deals quickly and hassle free. The only aspects more gratifying than booking through Reservations.com is the undeniable abundance of savings they will receive and 24 hour customer service. Reservations.com is one of the top online travel & accommodations companies. With a mobile friendly website, customers can access last minute deals quickly and hassle free. Customers can also find exclusive deals and offers for savings up to 60% off room rates. Reservations.com offers a wide selection of over 150,000 hotels in top destinations with an average order of $300. Earn 7% commission on sales.

&nbsp

Reserve Apartments - are the market leader for self catering serviced apartments in Edinburgh (www.letinedinburgh.co.uk) and Glasgow (www.reserveglasgow.co.uk). They have the widest range of quality apartments, all with instant online booking. This market has experienced rapid growth in the past few years as a growing number of people begin to understand the massive benefits of staying in a self catered apartment. Being able to instantly compare the actual price of available apartments is a massive bonus for those looking to stay in an apartment during their short break. Earn 5% of the value of all referred bookings.

&nbsp
Skyscanner - helps millions of users a month find the cheapest flights around the world by searching over 600 airlines – budget and scheduled – and 6000 routes. Publishers can also expect high conversions due to Skyscanner's simple, easy to use search engine that has made it such a firm favourite with users and the media – Skyscanner is constantly recommended by national print, online and broadcast journalists. Skyscanner is one of the fastest growing online travel sites in Europe. Cheapest flight prices, ease of use and clever search tools have made it a firm favourite with travellers and the media. Travel is one of the highest spending priorities for web consumers. Earn more from your site with Skyscanner, Europe's favourite flight search site. These tools have now been captured in a unique range of banner and panel creatives for you to choose from, with functionality that isn't available anywhere else. With Skyscanner you can now show your visitors search controls, flight prices, route maps and airline options without them even having to leave your site. Publishers get a massive 60% revenue share. This normally means a payout to you of between 7 and 30 pence with an average of 13 pence. However individual payments can be up to £1.00.

&nbsp
SPENT Travel - is the best new way to book hotel rooms with huge cash back of up to 45% (or averaging 25%) at your favorite big and boutique brands. A simple, fast and secure booking engine and app that enables you to tally up your cash for travel trips. SPENT Travel has over 300,000 unique hotels, in 200 countries worldwide. We offer the most comprehensive selection of hotels globally, prices are always equal to other leading OTAs and cash back makes it a winner deal for users. Earn 5% commission for each hotel booking that becomes a completed stay. Bookings are tracked by pixel and reported once the reservation is made. Completed stays are batched once a day for the previous day's completed stays. No commission is attributed to the booking until it is confirmed as a completed stay.



&nbsp
Stansted Express - Become a publisher of Stanstedexpress.com and earn commission on train ticket sales! As a publisher of Stanstedexpress.com your customers will have access to all fares across the Stansted Express route and beyond. Central London to Stansted Airport in just 47 minutes Group fares start at just £7 pp one way. Join today and earn up to 3% commission.







&nbsp
Sunrise Direct - Choose from over 95 free local departure points. There are few holiday companies in Britain that can claim such a long and distinguished history as SunriseDirect. Needless to say we are very proud of our past and, of course, our East Anglian roots. For decades we've been totally committed to providing local people with a truly unbeatable holiday service, and our network of local departure points across Norfolk, Suffolk, Cambridgeshire and Essex is an important part of that rich heritage. Unlike many other companies, SunriseDirect is focused on the East of England, and we know the region like the back of our hand. Journey's are often swifter because of that special knowledge, and that often means you will be relaxing at your destination while customers with other companies are still on the road! We are offering 5.00 % CPA on valid sale.

&nbsp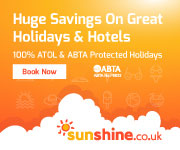 Sunshine.co.uk - is the holiday website designed by affiliates for affiliates. Taking our knowledge of having been affilliates ourselves, we created sunshine.co.uk to be the best affiliate programme for travel and non-travel affiliates alike. The big idea behind sunshine was a simple one. If low-cost airlines can work, so can a low-cost travel agent. We started sunshine.co.uk so we can sell amazing holidays as cheaply as possible. We cut the costs by only selling holidays online (and passing on the savings to you). And instead of expensive advertising, we look after our customers so well that word-of-mouth does the rest. That's why we have thousands of happy customers and can guarantee that any holiday you book with sunshine.co.uk will be the lowest possible price. We don't have a call centre, so no leakage through telephone sales. Any bookings requiring telephone intervention are also tracked to the affiliate who generated the booking.Standard Commission Rates: Hotel Only Booking - 6% per booking; Flight+Hotel Booking - 5% per booking. Cashback Affiliates: Hotel Only Booking - 1% per booking; Flight+Hotel Booking - 1% per booking.

&nbsp
SWISS - is Switzerland's best known airline and serves 73 destinations around the world with its 85- aircraft fleet. SWISS is part of the Lufthansa Group and a member of the global Star Alliance and is known as a quality airline. SWISS wants its guest to feel at home. And, with its core values of "personal care", "Swiss hospitality" and "quality in every detail" , SWISS will continue to maintain its high market profile as Switzerland's national airline. Online bookings on swiss.com include Miles&More miles, all inclusive fares and service on board free of charge. Commission : £4.00 GBP on Item List: Shorthaul; £6.50 GBP on Item List: Longhaul; £8.00 GBP on Item List: Business Class. This is an example of how SWISS Online Ticket Booking panels can be built into your site.

&nbsp
Thistle Hotels - is a leading hotel chain that really needs no introduction! This merchant is currently investing in a £100 million transformation, upgrading every one of its 32 properties, so there's never been a better time to add this widely recognised brand to your promotions! Thistle Hotels can be found throughout England, Wales and Scotland in every major city and regional centre, with 9 hotels in central London alone. Thistle Hotels offers 6% commission on all bookings.

&nbsp
Thomson Holidays - offers access to great value holidays, direct from the UK's No1 supplier of air inclusive package holidays. With the widest range of holidays available, all linked to the most punctual charter airline, your users are bound to find the perfect holiday. More satisfied holidaymakers come back to Thomson than any other holiday company - why choose anybody else? Thomson offers 1.5% commission on all holiday bookings.

&nbsp
The Thomas Cook Group - is the oldest and best known name in leisure travel with a history of innovation that started in 1841. We are very proud to serve the 19 million customers who chose to travel with us each year and, are focused on transforming our business so that we can serve even more customers in ways that deliver better their holiday dreams. Thomas Cook's own Hotels & Resorts are here to bring you unforgettable holiday experiences. Each type has its own personality, so you're bound to find the perfect one for you. There's our luxurious SENTIDO Hotels & Resorts, our fresh look smartline Hotels, the digital features of our SunConnect Resorts, our adult-only Sunprime Hotels and our fun-filled Sunwing Family Resorts. Plus, there's the laid-back luxury of our boutique-style Casa Cook Hotels and our new generation of Cooks Club hotels to enjoy. With options to suit every taste and budget, whether you're travelling on your own, as a couple or with your family, you'll have a holiday to remember with Thomas Cook Hotels & Resorts.me and expense. We take professional photos, design floor plans, and record high-definition videos of the property and neighbourhood. We also write detailed descriptions about the home and local area. For an experience which feels even more personal to you, pick the perfect place to stay with Choose Your Room, before you set off. There's also the option to Choose Your Favourite Sunbed, meaning you can relax in the mornings for the whole of your holiday, knowing your chosen sunbed is reserved just for you. Earn 1.5% commission on sales.

&nbsp
Villa Select - Hand-picked villas with pools for perfect holidays and memories to cherish for a lifetime! Founded in 1983, Villa Select is known for its unique and discerning selection of carefully hand-picked villas with individuality, character and style, from traditional rustic villas to high-tech modern luxury villas. Whatever your taste, you can be sure that every villa will offer the peace, privacy and relaxation you expect from a bespoke villa holiday. If you are looking for a bespoke Mediterranean, Caribbean, or South East Asia villa holiday for all the family, your holiday is in good hands when you choose to book with Villa Select. Book with confidence, Villa Select are member of ABTA which means you have the benefit of ABTA's assistance and Code of Conduct. Many of the travel arrangements that we sell are protected in case of the financial failure of the travel company. Please ask us about the protection that applies to your booking. Commission = 5.25%; Average Order Value = £1250.


&nbsp
Warner Breaks - Welcome to the world of Warner breaks, exclusively for adults. Wanrer Breaks offer inclusive half-board UK short breaks at stunning locations, with a wide range of activities, good food and live entertainment every night. The price of a break includes accommodation, breakfast and dinner everyday, a variety of leisure activities and nightly live entertainment. Earn 5% commission on sales.

&nbsp
Warner Leisure Hotels - Within its portfolio Warner Leisure Hotels has 9 countryside hotels and 4 coastal resorts all in absolutely stunning locations. Some of their beautiful hotels are Grade I and II listed buildings while others are remarkable for their stunning settings. All are surrounded by immaculate gardens and have relaxed and informal ambience for their guests to enjoy. Warner Leisure Hotels has evolved a very distinctive product offering. The combination of a chain of hotels that offers half board short breaks together with live evening performances is unique, as well as the fact that our holidays are only for adults only. We also offer very unique 'experience' breaks. Their guests can choose from over 700 experiences to make their stay with Warner Leisure Hotels extra special, from a trip on the orient express to a hot air balloon or helicopter ride. Guests may want to try something new or indulge in a passion e.g. digital photography, painting, gardening, dancing, golf, sailing, fencing, all of this and more is available at Warner Leisure Hotels. Earn 5% commission on sales.

&nbsp
Weekend in Italy - Founded in 1995, Weekend in Italy has grown to be the leading seller of tickets to Italy's museums and attractions, short tours, and special events through our website, www.weekendinitaly.com Headquartered in Italy, we are a family operation, and are unrivaled experts on the local scene. Our primary audience is the independent traveler, people who like to make their own travel arrangements. We also serve thousands of travel agents and travel professionals who resell our services to their clients. Frankly, we want you as an affiliate partner and are willing to go the extra mile to have you on board. Our 10% commission is sure to put money in your pocket. Our conversion rates are favorable to you, and your long cookie life assures you receive credit for sales from referrals who need a little time to shop and decide on what they want. Visitors from your website receive a warm welcome and resources not available anywhere else online. These include over 600 services aimed at people who like to make their own travel arrangements. Plus free city-by- city itineraries and invaluable tips that make for memorable vacations.

&nbsp
Wyndham Hotel Group - is the world's largest and most diverse hotel company with approximately 7,150 hotels worldwide. With iconic brands and hotel choices in every category from upscale to economy, we offer not only the most hotel choices internationally but also exceptional customer service and great value. In the UK we operate two main brands; Ramada and Days Inn: Ramada is a hotel brand with nearly 900 properties globally; with over 170 of these being located in the UK, Continental Europe and the Middle East. No matter where you travel and the purpose for that travel, Ramada hotels offer an affordable, welcoming and restorative experience so that you can do your thing, and leave the rest to us! Days Inn offers the "best value" for price conscious leisure and business travellers. Guests will experience our refreshed image reflecting our new products and services. We now offer more than 800 franchised hotels worldwide on five continents! Wherever our guests travel they'll always experience "The Best Value Under The Sun" at Days Inn. Look for the sunny new sign of value and see what the new day brings! Earn 3% commission on completed stays ordered through ramada.co.uk and daysinn.co.uk.

&nbsp